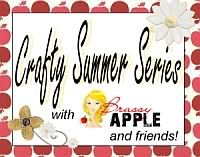 I couldn't stop at one thing, so here are three. All are super easy:
Trash Bag Holder
I used a thrifted flat sheet that I've upcycled for other items.
I cut from the top of the sheet with the folded edge, and cut out a piece that was 15" wide X 24" long.
I cut out a piece for the strap that was 13" long X 2 1/2" wide.
I cut out 2- 10" pieces of 7/8" wide elastic.
I stitched up the piece for the strap lengthwise (right sides together), and then turned it rightside out.
At the top of the larger piece, I measured 1 1/4" down, across the whole piece. I then stitched on that line. Then I wove in with a safety pin, one of the elastic pieces. I pinned both ends until I could sew them together.
At the bottom of the larger piece, I measured 2" up, folded the raw edge up to the 2" mark, and pinned. I then stitched the raw edge down. I then wove in the other piece of elastic and pinned both ends.
I pinned the strap to one side of a top edge, and pinned it. I folded the plastic bag holder right sides together, lengthwise, and pinned.
I sewed, finished the raw edges, and removed all the pins.
I turned it right side out. VIOLA!
***I am sorry for the color of some of these photos. Not sure what happened there. :-)
******************************************************************
******************************************************************
Travel Neck Pillow
I cut two pieces of fabric 11" long X 16" wide.
I used a CD and traced a curved edge from all four (x two) edges. I folded the fabric in half width-wise, and with a pencil drew a rectangle that is 2 1/2" wide X 7" long (from the bottom up). Before you cut that rectangle out, take the CD and round off the corners as shown in the photo below....You are left with basically a horseshoe shape.
I wanted the upper corners a little more rounded, so I freehand cut more of a curve.
And because I'm all about kids carrying their own stuff if they are able, I added a 7 1/2" piece of 3/8" wide elastic at the top that'll slip over their wrist. When I sewed this pillow up, I left a 5" opening at the top, stuffed it, and then hand stitched it.
******************************************************************
******************************************************************
Crayon Roll
This was by far the easiest one to make.
I used felt so that I didn't have to bother with finishing edges and such.
2- 5 X 16 1/2" pieces of felt
1- 3 X 16 1/2" piece of felt
1- 9 3/4" 3/8" wide piece of elastic
Layer all three pieces, one on top of the other with the shortest pc on top. Fold the elastic in half, and place the cut ends between the two bottom layers (3/4" in) and pin it in place. Pin the piece down to prevent slipping and movement during sewing. Sew it all the way around.
From the stitched edge, pencil a vertical line on the short piece 1 1/4" from the stitching line. Measure out another 1 1/4" from the previous line, and make another line. Repeat until you've made your way across. I had 12 crayon spaces.
Stitch forward and back on each marked line. Trim all threads, and you are done.